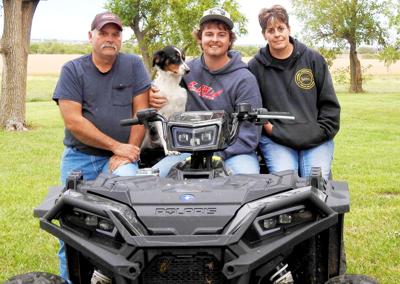 Chase Downard, Blue Rapids, has been doing what he can to live a normal life as a senior at Marysville High School since he was diagnosed with acute myeloid leukemia more than a year ago.
AML is a type of cancer of the blood and bone marrow. The disease interferes with the production of normal red and white blood cells and platelets. Chemotherapy is one way to try to treat AML.
Downard, the son of Tim and Lisa Downard, has battled AML since he was diagnosed with it on Aug. 27, 2021.
On Monday, Chase and Tim went to Kansas City for a checkup before Chase was to be admitted at Children's Mercy in Kansas City, Mo. Chase was to undergo four days of chemotherapy starting early Wednesday. Tim will then check into the KU Medical Center on Monday, Oct. 10. He will donate his bone marrow on Tuesday, Oct. 11. Chase will receive it the same day.
The chemo treatments Chase takes this week are necessary because "it kills everything in the blood," Tim said. The bone marrow transplant has a 50-50 chance of working, he said.
Twice before this week the Downards have tried to schedule the procedure but had to reschedule because both Chase and Tim were diagnosed with COVID-19 and then recently Chase had a cold.
Chase has been in and out of remission since he was diagnosed. His first treatment required four hospital stays over six months. He spent 141 days in the hospital. He was released each time his blood counts came up to an acceptable level.
Out of 40 million bone marrow donors in the world, four were a perfect match for him. One was a person who was overseas but the timing was not going to work to get him to the U.S. and evaluated, Lisa said.
Timing has been crucial, and when Tim learned that parents are normally a guaranteed match for five of the 10 criteria to be a bone marrow match, he stepped up. Fathers have a better chance than the mother to be a good match because pregnancy causes changes, Tim said.
"I'm thankful," Chase said about his dad giving bone marrow.
Tim said he felt pretty proud to be able to do this. He hoped to do it Sept. 6, because that was his birthday.
The ordeal has been hard for Lisa.
"No parent wants to see their child go through what he has gone through and not be able to anything about it," she said. "That's the biggest struggle. I would do anything to make sure he gets through it and survives."
Early in Chase's illness, fundraisers and donations helped the Downards with expenses. A recent poker run by the Blackhawks, a local motorcycle club, raised money toward Chase's second round of treatment.
"The community has been very, very supportive," Tim said.
His teachers have been good about putting assignments on Chase's school Chromebook for remote learning, and a certified teacher at Children's Mercy helps him with homework.
There isn't a day the Downards don't think about Chase, the leukemia and what their son faces. Tim said Marysville Christian Fellowship Pastor Brad Wicks has been a huge help.
Chase, Tim and Lisa do what they can to go about their day as normal as possible. Chase misses being around his friends when he has treatments.
Make A Wish Foundation answered his desire to own a Polaris Sportsman four-wheeler, which arrived in December. He rides it often. It's a gift that continues to give. It lets him live a no-holds-barred lifestyle, Tim said.
"Each day's a new day," said Chase, who plans to attend Cloud County Community College to get a degree in wind energy.
He has never been afraid to do anything, and that may be why Lisa said she has been accused of being a worrywart.
"The way I look at it is he had two choices," Tim said. "He could go to his room and shut the door and spend his time in bed, or he could go out and live. I don't think he has missed a beat. If he's happy, I'm happy."